Our company depends very heavily on referrals, and we know we won't get ANY referrals if we don't do an excellent job combined with the proper respect for our customer.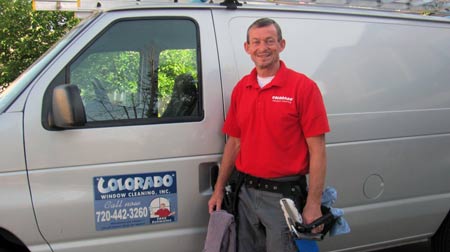 If you want a company that will take a lot of pride in the job to make sure you are 100% satisfied, then please call. Our company is all about outstanding customer service, quality work, and no aggravation to you, the customer. Here are a few samples of our numerous reviews:
"Colorado Window Cleaning did a great job cleaning my windows and screens. He was on time, cleaned up after himself, wore booties since the carpets were just washed and even cleaned off my back porch because of a pile up of debris. I didn't ask him to do this task, he did it on his own.
He left the windows so clean, that it was hard to decipher if the window was closed or if it was open. The screens and window tracks and window sills were also cleaned and he did an excellent job with everything. I am definitely using him for all my future window cleanings."
Zala Habibi
"ALL of the windows and screens, skylights, and window ledges, inside and out were
thoroughly cleaned. PERFECT service both inside and outside the house."
Michele Obermeier
"Denny, thank you so much for our beautiful windows. They sparkle! I really appreciate you coming out on what seemed to be short notice, in the winter even!"
Jen & Ryan
"I got home last night about 8pm and everything looked pretty good. But this morning
when it's light and I can see. . . WOW, I'm VERY pleased! These windows have never been
this clean. THANK YOU Colorado Window Cleaning!"
Jeff Jones
"A big thank you for the terrific job you did on my windows. Every time I walk into a
room, I'm amazed by how much of a difference your cleaning has made. What a great way to
jump into spring!"
Toria Thompson
"Our windows really are so clean they look open! We cannot believe the difference
in how bright and clean and appealing our house looks and feels since you cleaned our
windows. Thank you so much."
Kim Frazier
"Colorado Window Cleaning came to me from a google search for window cleaners in the Firestone area. Denny was prompt in providing me a competitive bid on the window cleaning of my home. This home had been vacant for at least 2 years and I don't think the windows had ever been cleaned! They were absolutely filthy, some you couldn't even see through. Plus these windows all have storm windows on them making the job even more taxing. Denny and his assistant changed my home. They showed up promptly on time and moved from one end of the house to the other over a 5-6 hour period! Every window perfectly cleaned, not a streak to be found. I never realized how much a clean window means until this cleaning, it literally changed my home! I will refer Colorado Window Cleaning not only to my friends and family but also to all my clients!"
Abby Renner
"After you left I got to looking at our widows and was impressed that they looked so
good. We are really enjoying the sparkly clean windows – they've NEVER been this clean
before!"
Mike Oliver
"I know that our new home was not maintained by the prior owners, so hiring a professional to clean the windows was the best way to assure that they were done right. It is obvious that we hired the right person to do the job. The windows look noticeably better and knowing that the sills were vacuumed and cleaned is a relief. Please be sure to add me to your reference list as I am happy to assist in promoting your excellent service to others."
Todd Bloom
"Just wanted to follow up and say NICE JOB! The world looks great from here! Please feel free to use us a reference as needed."
Gary & Carla Brooks
Call now to get your windows sparkling clean the way you want them without hassle and worry free!