Residential Window Washing
So How Do We Do It?
How do we get your window "so clean they look open?" Here's a complete description of how we clean your windows every time. We usually start cleaning the outside of your windows first, using a soft strip washer and a very concentrated solution called Glisten. Glisten is bio-degradable and essentially has no scent. This window cleaning solution will literally make your windows sparkle. We then use a wide scraper imported from Denmark to get off paint overspray, bug marks, sap, etc.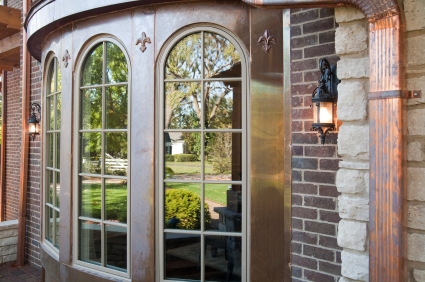 It's all in the details…
After thoroughly wetting the window again with a strip washer and Glisten, we'll squeegee the water off, and then towel dry around the pane where water collects. Now we whip out a fine piece of steel wool for touch-up. We then hand wash both sides of each screen and dry the screen completely before replacing.
After all the outside windows are done, we'll move inside and repeat the process (with shoe covers and drop cloths to protect your floors!) When we're inside we'll clean the tracks and the window sills. We pride ourselves on our perfectionism. All of our work is satisfaction guaranteed. Any streaks, smears or finger pointers will be dealt with immediately and with vigor.
We may not be the company for you…
If you're looking for a quick, zip-zap on to the next window job, our company isn't for you. If you want a window cleaning you'll be happy with—one where you'll tell your friends and neighbors—then please call us. We stay about two to three weeks booked up, so call now to get on our schedule. If you have a special occasion (party, graduation) coming up soon, we can try and juggle our schedule to accommodate you. Simply let us know.
Sincerely,
Denny Thompson
Colorado Window Cleaning, Inc.
Call now to get your windows sparkling clean the way you want them without hassle and worry free!
"All of our windows really are so clean they look open! We cannot believe the difference in how bright and clean and appealing our house looks and feels since you cleaned our windows. Thank you so much."
Kim Frazier